Dirt: What a week
It's Tuesday.
Eliza Levinson returns twice a week to tell us what is going on in streaming and the metaverse.
* Michael Barbaro voice * It's Tuesday, May 3. This week, James Corden announced he's leaving late night next year, hopefully not so that he can star in more cursed musicals (see: CATS, the Cinderella reboot with Camilla Cabello), British men revealed that they have terrifyingly bad hygiene, and the Met Gala timeline went from meme place to bad place very quickly.
After Netflix sent shock waves through the internet when news broke of its continued plummet in revenue last week, the streaming service followed a storied media tradition with a wave of layoffs at its editorial platform, Tudum. As summarized by Gita Jackson at Vice, Tudum was conceived as a "'fandom engine' for Netflix, designed to support its original content with original editorial content." As ever, it's a bummer to think that even the most (theoretically) financially solvent companies in the world won't support quality entertainment writing longterm (present company excluded).
Netflix's dramatic correction efforts included the announcement that Meghan Markle's planned kids' show has been "canned," writes Kelly Conaboy for Gawker. Conaboy continues:
Now, you may be wondering: Have Prince Harry and Meghan Markle so far produced even a single piece of content under either of their multi-million dollar content-producing deals? Well, yes; don't be rude. They did one podcast episode. But they have a new podcast coming this summer, okay?, and documentary [sic] about the Invictus games is still in the works at Netflix. So there. You can't force the muse.
And in crypto corner, I was extremely interested in this piece by Balaji Srinivasan that argues for Elon Musk to officially bring Twitter to the web3 by gifting all of its users a free "Twittercoin" that would allow "every account worldwide … full control over their username in a crypto wallet, plus a share of Twitter's new coin." This is very intriguing, and actually something I could really see Musk – someone obviously desperate to win the approval of … Anyone? Everyone? – being into. 
The part of Srinivasan's argument that I don't understand is that this is not only something that would be, obviously, beneficial to the intersecting communities of Twitter users and crypto investors, but also theoretically beneficial to Musk's efforts to acquire the website. Srinivasan believes that many obstacles will be placed in Musk's path – possibly true, though not certain – and that a campaign for public support would be enough to decisively "win" the site for the shitposter. 
Am I missing something, or didn't Elon Musk buying Twitter reinforce the fact that rich people can do whatever they want, it will affect millions of civilian lives, and we have no say about it? I don't really think that individual users of Twitter have much in the way of a vote about the acquisition of the site, though – on the flip side of the Twittercoin – bringing the site to the metaverse could boost its revenue and popularity.
One of the more interesting takeaways from Srinivasan's article was the data demonstrating just how many of Twitter's users don't live in the United States: in fact, the majority of Twitter users are international (that is to say, not in the US), with 38 million daily average users in the United States and 179 million daily average users living anywhere else. 
Someone in the Coindesk "Breakers" Discord pointed out that DeFi (as in, Decentralized Finance) acolytes are unlikely to rally around the idea of, essentially, investing in a traditional corporation, which is antithetical to the idea of investing in the blockchain in the first place. But with international governments and regulatory bodies increasingly moving toward recognizing crypto, is that ideal still an active part of the web3 identity? Or could Twittercoin be the future? What do you think?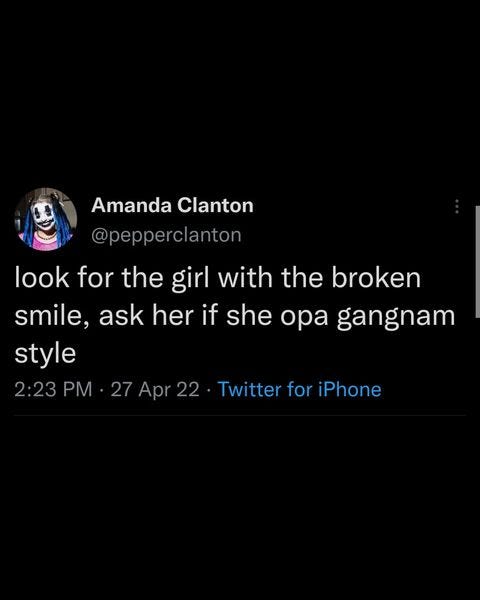 ~Catch up on Dirt~
— Dour Darcels, Crypto Coven, Avius Animae: the latest edition of What's In Your Wallet, with John Jannuzzi 
— Kyle and Daisy give their weekend recs, from Tokyo Vice to Crazy Ass Moments in American Politics and using a rice cooker to make chicken-mushroom rice 
— An excerpt from Laurie Stone's new book "Streaming Now: Postcards from the Thing That Is Happening"
Streaming news
— the most interesting thing to happen at this year's White House Correspondents' Dinner was obviously Kim Kardashian and Pete Davidson hitting the red carpet together for the first time — YouTube philosopher ContraPoints teased making a new video again. It would be her first in eight months, since "Envy" — "Barbie Girl" (the song) will not be in Barbie (the movie) — as people on the internet push for Chris Pratt to be kicked out of the Guardians of the Galaxy franchise, its director, James Gunn, chimed in to say that will "never" happen. (TL;DR, they're mad at him because he allegedly goes to a church that Elliot Page once called "infamously anti lgbtq") — in the world of reboots: Tyra Banks will Finally return to film after her iconic turn in Life Size in Don't Tell Mom The Babysitter's Dead, while many of the original castmembers of That 70s Show will be coming back for That 90s Show and the long-awaited Avatar sequel is, miraculously (unfortunately?) happening this December — Bill Murray responds to allegations of his "inappropriate behavior" that indefinitely halted production of Being Mortal, which was set to be directed by Aziz Ansari — The First Lady is getting bad reviews — the shows Black-ish and Grace and Frankie are coming to an end 
Dispatches from the Metaverse
— big steps toward crypto hitting the mainstream: Goldman Sachs "gave the go-ahead for its first-ever loan backed by bitcoin this week", and Fidelity Investments "announced it'll be letting its customers contribute bitcoin to their 401(k) accounts in the near future" (via Input); meanwhile, messaging app Telegram will allow its users to "send Toncoin, the cryptocurrency built off of Telegram's abandoned blockchain effort." The Wikimedia Foundation isn't getting on board, announcing this week that it will no longer accept donations in cryptocurrency — Bored Ape Yacht Club released NFTs "representing plots of land in its upcoming metaverse project, Otherside" and the tidal wave of buyers caused gas fees to skyrocket, with holders spending close to $125 million just in transaction fees — speaking of expensive and boring charges, NFTNow made an explainer for NFT holders about "what to know about deductions and tax hurdles" — market logic to "sell in May" for blockchain users may not actually be historically true for Bitcoin, Coindesk advises — in a pretty unsurprising twist that could mean more, similar reveals down the line, the Wall Street Journal broke the news that Grindr has been selling its users' data "since at least 2017." Not to be naïve and/or a cynic, but … don't, like, all sites do that? — following an overwhelming influx of bots in the NFT project Candy Machine, Solana went dark for seven hours
Playlist
— Selling Sunset season 5 — King Richard — I'm really into the meme of sharing the tragic videos our phones make of the photos in our camera rolls and this one is esp funny — at MEL, Miles Klee describes the internet's pro-Johnny Depp content as "fanfiction" — a great eye for the "little dudes" in medieval art at @WeirdMedieval on Twitter — this is so embarrassing but I have segued from Wordle to Duotrigordle — this surprisingly harsh profile of Elisabeth Moss in the New Yorker… and I will never forget when she said of ex-husband Fred Armisen that "the greatest impression he does is that of a normal person" — Straightiolab podcast — Eliza Levinson