Dirt: Sanctions explained
Memes abound.
Eliza Levinson digs deep to answer the question: can Russia use cryptocurrency to avoid sanctions?
Dear reader,
Last Tuesday, I tumbled down the wormhole of why everyone seemed to be donating to Ukraine in cryptocurrency, examining how that lives up to the starry-eyed promises of crypto and its possible complications (internet outages). I also pointed out that some experts have sounded the alarm that Russia will use cryptocurrency to evade sanctions, but I didn't go into too much detail, focusing instead on the broad strokes of the budding crisis in Ukraine and the promises (and pitfalls) of Bitcoin altruism. 
I started this process wondering what it would mean for Russia to use cryptocurrency to soften the blow of the West's sanctions. What would that look like? Would the government of Russia as a whole have just one big crypto wallet? Actually, how does currency work? What is a bank? What even are sanctions? Are sanctions bad? What is happening? I fretted and frantically researched; I tried to imagine Putin typing "gm" into an infinite stream of Discords.
sanctions: (n.)
when one country's government (gov't A) tries to avoid going to war with another country's government (gov't B) who is acting, some might say, bananas, by making it really hard for gov't B ("the gov't who is acting bananas") to make any money
As of March 7, the status of existing sanctions against Russia is as follows:
While forswearing military confrontation with Russia, NATO and its allies have waged something akin to financial war on Vladimir Putin's regime. In addition to sanctioning Russia's oligarchs and seizing their Western assets, the U.S. and E.U. have effectively evicted Russia's entire banking system from the global financial order. Russian banks can no longer use the international payments known as SWIFT to complete transactions, forcing the firms to conduct business at a snail's pace, one telephone call at a time. Not that Russia's banks have all that much business to conduct, given that engaging in virtually all forms of commerce with Russia will now expose foreign firms to secondary sanctions.
— Eric Levitz for New York Magazine ("The West's Sanctions on Russia Are Working Too Well")
Right at this very moment, leftist circles are critiquing sanctions a lot, and from what I can tell it helps that academic Nicholas Mulder has a really fortuitously timed PR tour going for his new book, The Economic Weapon: The Rise of Sanctions as a Tool of Modern War.
In an interview with Dissent, Mulder explained that sanctions are actually a pretty recent tool to prevent war. From the blockades of the first World War to the sanctions we have today, countries have used the strategy of putting – or even just threatening to put – a brutal economic squeeze on the "government B"s of the world (because as previously stated gov't B is, by definition, acting bananas). The mentality, then as now, is that economic war is less brutal than straight-up war, while people like Nicholas Mulder – and foundational modern economist John Maynard Keynes, back in 1924 – argue that sanctions can plunge countries into financial ruin, often doing more damage to the average citizens than to the governments they target. And this ruin is not to be understated: during the World Wars, sanctions were understood as the "anti-humanitarian position," an understanding of economic warfare that has dissipated over time. People now tend to think of sanctions as the peaceful approach, which, Mulder (and others) argue, it is surely not.
autarky (n.)
economic self-sufficiency; a closed circle; something that sounds pretty good but maybe isn't (in this context)
Fascinatingly, Mulder explains that cutting off countries like Japan and Germany from international trade helped foment the extreme isolationist economies ("autarky") that characterized the Second World War. If we cut off Russia now, could Russia feasibly become autarkic? What would that look like? Why is this relevant to Dirt? What is happening? (More on this … some of this… later.)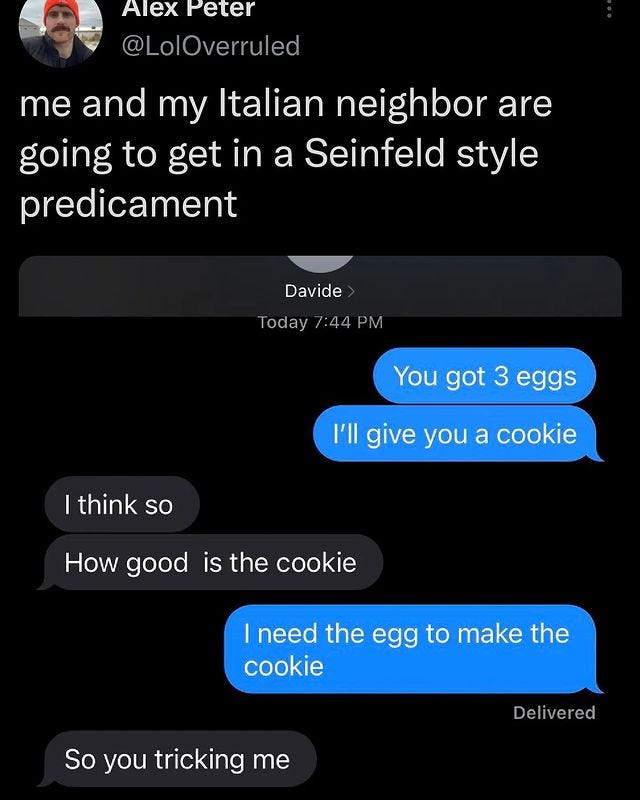 By February 27, "[i]n Russian cities, anxious customers started lining up on Sunday in front of A.T.M.s, hoping to withdraw the money they had deposited in banks, fearful it would run out. The panic spread on Monday," wrote Patricia Cohen and Jeanna Smialek for the New York Times. "In Russia today, as the purchasing power of the ruble drops sharply, consumers who hold it are finding that they can buy less with their money. In real terms, they become poorer."
bank (n.)
the place that holds the money
Before Russia's invasion of Ukraine, Nicholas Mulder speculated in a January op-ed for The Guardian that sanctions aren't really effective these days, anyway. They cause ripple effects that are painful across countries and industries – Russia's got its oil and gas industry, he noted, and anyway, they've been hoarding foreign currencies since 2014, which would dramatically soften the blow of sanctions. How? 
As Eric Levitz explained this week in New York Magazine, "With its giant stockpile of foreign currency, … the Russian central bank could engineer demand for rubles by buying them up with its own dollars and euros." In other words: by stocking up on $640 billion in dollars, pounds, euros and yen over the last eight years, Russia anticipated being sanctioned – but it didn't expect to be sanctioned this hard.
cryptocurrencies (n., pl.)
please don't make me define this…yada yada Blockchain, yada yada Tether
…
[note: but seriously, I do my best to explain the philosophy of crypto
here
]
With Russia increasingly iced out of international trade, spectators – including yours truly – have wondered what it means for crypto. After all, as an ostracized country facing tough sanctions with diminishing options, Russia certainly wouldn't be the first to go digital: Iran, North Korea, and Venezuela have all used cryptocurrencies to try keeping their economies afloat. And despite some media skepticism to the contrary, some of those currencies have had surprisingly wide reach. 
In fact, according to Blockchain analysis group-slash-publication Elliptic, as of May 2021, 4.5% of all Bitcoin mining happened in sanctioned Iran, an autarky where Iran used its own oil reserves to power the creation of new cryptocurrency. That means, as they write, "If 4.5% of Bitcoin mining is based in Iran, then there is a 4.5% chance that any Bitcoin transaction will involve the sender paying a transaction fee to a Bitcoin miner in Iran."
That means that those caught doing business with Iran via cryptocurrency will be slapped with secondary sanctions – and individuals aren't exempt, as evidenced by the French government's seizure of a Russian oligarch's "superyacht" this week. 
Could Russia – a country which supplies much of the Western world with its oil – feasibly transition to an illicit oil trade facilitated through cryptocurrency? Could Russia do what Iran has done, but even bigger? 
anonymity (n.)
some freaking privacy, for once
Could crypto substantially reduce the power of sanctions? It's not likely, most analysts are saying. As Radmilla Suleymanova explains in Al Jazeera, 80% of Russia's "daily foreign exchange transactions and half of its international trade" took place in USD. That's a massive amount of money, and, as interviewed crypto expert Ari Redbord describes, "It is very difficult to move large amounts of crypto and convert it to usable currency." 
Okay, you might be saying, but difficult ≠ impossible. Suleymanova continues, "On a blockchain ledger – where cryptocurrency exchanges are posted – every transaction and the address associated with it are viewable to the public. [A representative from Coinfirm] told Al Jazeera that while sanctioning governments cannot know who the owner of the address sending crypto is, they can see … the amount of money that is moved." If a certain address starts moving suspiciously large sums, in other words, that'll ring the alarm bells for the authorities. That's not the only obstacle – if Russia continues to lose support from major oil and gas importers, transitioning to Bitcoin mining "would likely be just a drop in the bucket for a major crude and gas exporter like Russia."
doubts (n., pl.) 
I've got 'em
This week, Coinbase founder Brian Armstrong posted a lengthy Twitter thread explaining the many ways in which crypto could not possibly be used to avoid sanctions, a claim that has been roundly echoed by other high-ups in the cryptocurrency industry. That's dovetailed with a crackdown from Coinbase on "25,000 cryptocurrency addresses linked to Russian people or entities," which was followed by Venezuelan and Iranian cryptocurrency users reporting that they were unable to access their Ethereum wallets on MetaMask, Infura, and OpenSea. (Venezuela and Iran are both, remember, sanctioned countries with burgeoning autarkic crypto economies.) 
I get the sense that the crypto industry is sensing the looming footsteps of good ol' government regulation. In fact, Joe Biden will sign an executive order focused on crypto this week.
the future (n.) 
daunting, honestly
Many are asking if this is, at long last, the kingmaking moment for crypto that the digital currency's evangelists have so hysterically foretold. (TL;DR: performative earnestness is a hallmark of the crypto community; those who sow chaos in healthy skepticism like yours truly are often derisively accused of spreading "FUD" – aka, "Fear, Uncertainty, and Doubt" – that challenges the dogma of their brave new world). 
As of March 3, Ukraine's government raised around $54 million in cryptocurrency alone – for scale, that's up from $10 million four days earlier, on February 27. That is, without question, awesome; for crypto enthusiasts, it's beautiful evidence for their currency's longstanding pledge to liberate coinage from the state, corrupt and overbearing like a slimy stage parent. Simultaneously, however, if Russia follows in the footsteps of other heavily-sanctioned countries like Iran and Venezuela by making a national turn toward cryptocurrency, trends demonstrate that'll mean a spike for the cryptocurrency market overall. 
My question is: doesn't that mean anyone invested in crypto would be directly profiting off of Russia's invasion into Ukraine? If so, does using crypto to donate to Ukraine make it, like, better?
In case you're skeptical, I'll give you some numbers: in 2021, after falling into economic ruin due to severe US sanctions less austere than what Russia faces now, Venezuela's government nationalized a cryptocurrency, the petro. That, combined with a nod of legitimation from US financial regulators, boosted Bitcoin and ether's values by 3 and 2.3%, respectively. On Monday, February 28, Bitcoin shot up 10 percent and ether 7.6 percent, which CNBC correlated directly to new sanctions levied against Russia by the US Treasury. 
I don't mean to make anyone feel defensive: for what it's worth, it's not materially that different for investors to profit off of crises via crypto versus traditional currencies – i.e., Pfizer investors cashed out during Covid; no ethical consumption under late (techno)capitalism, et cetera.
Anyway, I figured I'd close out this post with a trivia fact: before moving to Europe, I'd heard a lot of people refer to "the Ukraine," while people I met in Germany and Poland called it simply "Ukraine." This week, I learned that it's very intentionally just Ukraine. In a 2014 interview with TIME following Russia's annexation of Crimea, former US Ambassador to Ukraine William Taylor explained that "the Ukraine" (directly translated, the borderlands) was what Russians called the territory during the Soviet Union, when Ukraine was not recognized as its own independent country. Once Ukraine established independence from Russia, reclaiming its name sans article became an important symbol of autonomy. To some, it's especially charged: "Whenever [some people] hear the Ukraine, they fume," Taylor told TIME. "It kind of denies their independence, denies their sovereignty." 
Further Reading 
fact check ur feed 
— "The History of Sanctions" by Nick Serpe and Nicholas Mulder in Dissent —  "Ukraine, Not the Ukraine: The Significance of Three Little Letters" by Katy Steinmetz for TIME (March 5, 2014) — "How Iran Uses Bitcoin Mining to Evade Sanctions and 'Export' Millions of Barrels of Oil" by Tom Robinson for Elliptic — "The 2021 Global Crypto Adoption Index" at Chainalysis — "Companies Linked To Russian Ransomware Hide In Plain Sight" by Andrew E. Kramer for the New York Times — "Crypto Banking and Decentralized Finance, Explained" by Ephrat Livni and Eric Lipton for the New York Times — "Ransomware HQ: Moscow's Tallest Tower Is A Cybercriminal Cash Machine" by Kartikay Mehrotra and Olga Kharif for Bloomberg Business — "What's awaiting Russia may be much worse than the chaos of the 1990s" by Maximilian Hess for Al Jazeera — "Russia's Economic Stagnation in Five Charts" by Justin Fox for Bloomberg — "The West's Sanctions on Russia Are Working Too Well" by Eric Levitz for New York Magazine — "Strangling Russia's Economy Won't End Putin's War – But Could Be Disastrous For Civilians" by Dominik A. Leusder for Jacobin — "Keynes warned the world against using economic sanctions. His alternative is worth considering" by Nicholas Mulder for The Guardian — "The West's Plan To Isolate Putin: Undermine the Ruble" by Patricia Cohen and Jeanna Smialek for the New York Times —  "Crypto has its gold moment, outperforming amid the war in Ukraine. Can it last?" by Tanaya Macheel for CNBC — "Ethereum Companies Suddenly Ban Users in Certain Countries" by Jordan Pearson for VICE
Streaming news
— Surge pricing to take effect in North American movie theaters for The Batman — everyone is talking about new RPG video game Elden Ring (I'm betting it's already in development for adaptation into a Hulu miniseries; just a guess; God of War is already going to Amazon Prime) — Balenciaga's snowy AW22 runway show was intended to be a commentary on climate change, and transformed into an evocative meditation on refugees and the Ukraine-Russia crisis 
Dispatches from the Metaverse
— as Russia continues to crack down on free speech online, people in Russia and Ukraine are turning to an unlikely outlet: Pornhub — Etsy makes the unpopular decision to raise fees for sellers, prompting some to turn to Shopify — Eliza Levinson